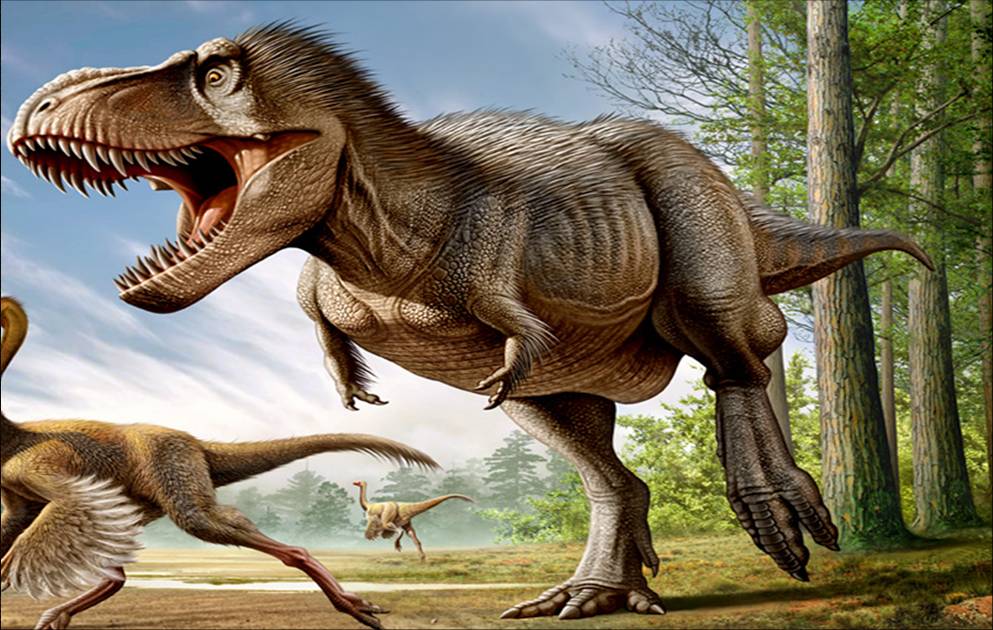 You need no introduction to this animal but oh well.
Tyrannosaurus rex
(Tyrant lizard king) was the apex predator of Laramidia during the Late Cretaceous epoch of the Cretaceous era. It was enormous at about 12 meters long and 6 tonnes. While it was for the longest time thought to be a carnosaur like
Allosaurus
and
Carcharodontosaurus
, it's actually a giant ceolurosaur related to not just other tyrannosaurids like
Tarbosaurus
and
Teratophoneus
but also dromaeosaurids like
Velociraptor
, oviraptosaurs like
Gigantoraptor
, troodontids like
Stenonychosaurus
, and birds of course.
Tyrannosaurus
lived in mildly warm forests and plains. It likely used the thick underbush to capitalize on ambush tactics to hunt its prey. Big predators need big prey and its likely favorite was
Edmontosaurus
, a common large herbivore in the region.
Triceratops
was also a common herbivore and would also be prey for
Tyrannosaurus
.
Ankylosaurus
and
Denversaurus
were tougher targets but were also viable.
Alamosaurus
were impervious to any predator even for one large as
Tyrannosaurus
so only young, old, sick, or exhausted individuals would have been prey. Smaller creatures like
Ornithomimus
,
Anzu
,,
Pachycephalosaurus
, 
Didelphodon
, and other small mammals and reptiles would only have been viable prey  for young tyrannosaurs. Cannibalism would also have been practiced by
Tyrannosaurus
.
Tyrannosaurus
would have stalked its prey and charged at it at full speed to catch the animal off guard and kill it with its powerful bite. The short but strong arms would have been useful in holding the prey while the
Tyrannosaurus
delivered a powerful bite.
Tyrannosaurus
went extinct 66 million years ago during the K-Pg extinction event.
My Items
---