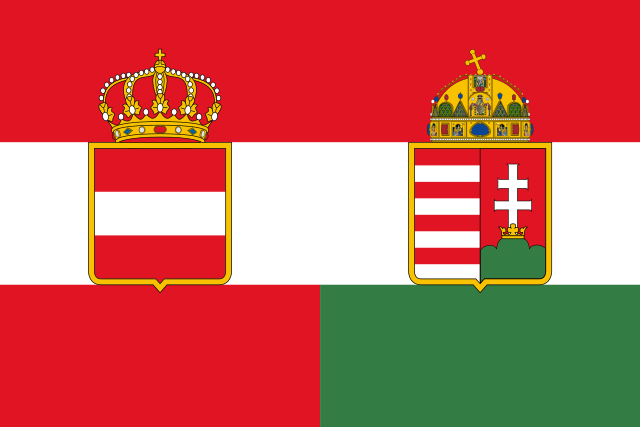 The Austro-Hungarian Empire (or K.U.K) is such a fascinating topic.
Not only was the idea of dual monarchy so fresh and interesting, but the joint empire that came to be because of this uncanny union was just so incredibly huge that orders for the day had to be translated into a whooping fifteen different languages before they could be carried over. That alone would make the topic worth investigating to me, but the thing is that that's just the tip of the iceberg, and there are many more surprises waiting to be discovered by anyone brave enough to research such a relatively obscure topic.
And that's it, really... despite having been such a massive empire and having existed for several decades, the K.U.K has been doomed to a relative obscurity that makes the topic kind of hostile to the casual reader, which honestly feels wrong and odd at the same time. I was so lost by this that I actually asked the most intelligent and well-acquainted history buffs that I know and they could only name ten books in total that even covered the Austro-Hungarian Empire at all (and four of them weren't even translated into English, while two more were only about the clothing that the imperial soldiers wore... I mean, what the heck?). Furthermore, Austria's Imperial past is frowned upon in our day and age and there are laws in place preventing descendants of the Habsburg monarchy and other royal houses from even using their hard-earned honorifics, the "zu", "von" and "graff" that their relatives fought for.
But what might result even odder than that is the fact that, internationally, the K.U.K had always been seen as a satelite of the German Empire, which accelerated the Allies' decision to force its dissolution after the end of the First World War.
And honestly? That might have actually been the case, since the Imperial Army had such a dismal performance in the war across all fronts (couldn't even demolish Serbia despite having such an overwhelming advantage over its largely-partisan army) and orders to the K.U.K came more from Berlin than from either Vienna or Budapest. Things came to an absolute boiling point in 1918, when Hungary declared its independence from the Habsburg Monarchy, effectively dissolving the empire, but also amusingly leaving tons of Hungarian soldiers fighting for Austria, since they were already at the front and no efforts were made to communicate this decision to them.
The Austro-Hungarian Empire was broken into nine new countries (most of which would be broken again soon thereafter) and that sent shockwaves across the newly-pacified Europe, which found all these new countries in dire need of resources they took for granted while members of the K.U.K. This too helped setting the stage for a Second World War.
But what's perhaps most interesting of all is the fact that the Hungarian half of the Dual Monarchy showed more resolve towards keeping their kingdom together. Hungarians firmly believed that they could keep "The Holy Kingdom of St Stephen" together by suppressing the revolting minorities within its borders... and maybe they could have, but the Allies were having none of that and helped breaking up this kingdom as well. This was all but done after the so-called Aster Revolution took place, in which fierce K.U.K oppositor Mihaly Karolyi seized power on October 31st, 1918 and immediately cancelled the compromise agreement, effectively putting an end to the Dual Monarchy.
By that point, the only word that could accurately describe the mood in and around the former Austro-Hungarian Empire was "chaotic" - most of the former territories had already left the empire and the few that remained openly challenged the Emperor's authority. Knowing that the situation was hopeless, Emperor Karl's last Prime Minister (Heinrich Lammasch) convinced his majesty that the only reasonable course of action was a "temporary" resignation to his throne.
On November 11th, Karl issued a proclamation seen by many as a last-ditch effort to execute damage control over the broken Empire and recognized the Austrian people's right to become a republic. He promptly dismissed Lammasch and his government and released the people of Austria from their oath of loyalty to him.
The same proclamation was issued two days later in Hungary, but Karl didn't abdicate from the Hungarian throne and wished to remain available for them in case his presence was needed, but for all intent and purposes, that was the end of the Habsburg Monarchy.
And there you have it, one of the most massive empires the world's ever seen brought down and broken up with alarming speed because of a war, incredibly hostile armistice terms (signed, separately from Germany --and decidedly to humiliate the royals-- on the anniversary of the assassination of Archduke Franz Ferdinand) and just the overreaching nature of said Empire, which couldn't keep so many races happily living together under a reign that they felt didn't represent them.
I'd really like for this to be an open topic in which anyone can contribute and improve upon each other's input on such a largely-ignored topic, so... what do you know about the Austro-Hungarian Empire? What would you wanna know about it? What books can you recommend? Share with us!
~~I had Arizona in my mind when coming up with my account name~~.
~Social Media Links~


Follow me on Twitter:
@Luftwaffls
-
Follow The Coffee House on Twitter:
@tch_forum