Who hasn't dreamed about living inside the Harry Potter universe? About witnessing the events that gave it shape and about interacting with the leading cast? Emily McGovern (author of the comic that gives this topic its title) certainly has, and her vision of what it'd be like to be one of countless extras that just go to school in Hogwarts, while the selected few go into flashy adventures, does a wonderful job portraying what it'd be like belonging in that universe, but without being actually important in it.
Oh, she actually gets to interact with some of the main characters from time to time, but her experience is mostly composed of mundane interactions with other seemingly-nameless characters that also just go to school there. It's pretty awesome because of that (and because they question Hogwarts on a daily basis).
I actually kept putting off posting about this comic because I couldn't find a single strip that would be better than the rest, to best eximply what it is all about... well, I think I found it with this one: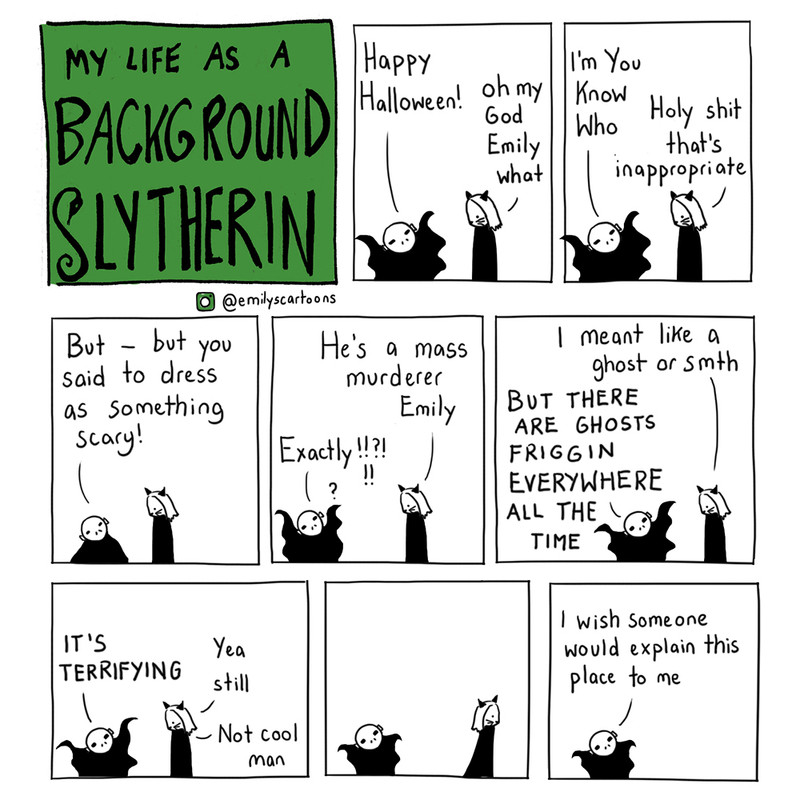 http://emilymcgovern.com/category/my-lif...slytherin/
~~I had Arizona in my mind when coming up with my account name~~.
~Social Media Links~


Follow me on Twitter:
@Luftwaffls
-
Follow The Coffee House on Twitter:
@tch_forum